Preorder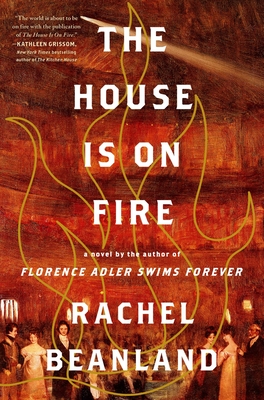 The House Is on Fire
Publication Date:
April 4th, 2023
Publisher:
Simon & Schuster
Description
Get a SIGNED copy if you pre-order here!
Praise for The House Is on Fire
"Seamlessly interweaving historical facts and her own narrative, Beanland follows these four characters through the fire, the immediate, chaotic aftermath, and the subsequent investigation. Fully realized characters and gripping prose makes for an excellent, riveting novel that is highly recommended."—Booklist, starred review
"Powerful…. Beanland enlivens the smart and suspenseful narrative with fully developed protagonists that illuminate the community's response to mass catastrophe. Readers will relish this."—Publishers Weekly, starred review
"Propulsive…full of historical detail and full-blooded characters"—Shelf Awareness
"The world is about to be on fire with the publication of THE HOUSE IS ON FIRE. This is a propulsive, pulse-pounding read—one that grabbed hold of me and didn't let me go until the very last page. It is the kind of book you finish with a sigh, and hope against hope there is a sequel coming."—Kathleen Grissom, New York Times bestselling author of The Kitchen House and Glory Over Everything
"Beanland's research is meticulous, her characters are well drawn, and her writing is gorgeous. The House Is on Fire is a stunning achievement."—Jeannette Walls, New York Times bestselling author of The Glass Castle and the forthcoming Hang The Moon
"The House is on Fire captures the disastrous night hour by hour, reminiscent of watching a true crime drama on TV. Most importantly, Beanland's choice to explore the tragedy through four very differently privileged people allows the story to go beyond facts and into the moral fabric and social norms of the time. It is disturbing to be reminded of the vice grip of racism, class and sexism while a deadly fire rages on.... Fast-moving, character-driven and action-packed, The House is on Fire is simply a thrill to read."--Bookpage
"The House is on Fire is a marvel. It has everything I want from historical fiction. It makes the past as urgent for its readers as it would have been for its characters. Beginning with one tragic mistake, the raising of a chandelier, Beanland expertly leads her readers through a spellbinding story of early America in all its complexity and contradiction."—Kevin Powers, author of National Book Award finalist The Yellow Birds
"A riveting story that places the reader at the very heart of a devastating, true-life tragedy. Beanland has clearly done her research, and the effect is both heart wrenching and eye-opening, as unlikely heroes and unforgivable cowards add to the rich mosaic of a community torn apart in a single night. Enthralling."—Fiona Davis, New York Times bestselling author of The Magnolia Place
"The House Is On Fire is a dynamic novel with an unforgettable cast of diverse and intricately and gracefully crafted characters. Beanland deftly explores the complications of community, race and class, loyalty and sacrifice, and the various types of freedom. Rachel Beanland, once again, has proven herself to be a remarkable storyteller."—De'Shawn Charles Winslow, author of In West Mills
"THE HOUSE IS ON FIRE is a trenchant examination of the way tragedy shines a light on the best and worst of humankind and how we find agency and courage in the face of darkness and destruction. By turns heartbreaking and heart-pounding, Rachel Beanland's sophomore novel is a mesmerizing portrait of four unforgettable characters and how both chance and choice shape their fates." —Caitlin Mullen, author of Please See Us
"Propulsive. Rachel Beanland's The House Is On Fire pulls you into a major moment in American history via the lives of four vividly drawn characters."—Farah Ali, author of People Want to Live
"Beanland has an uncanny skill for capturing the voices of a range of people at a time in history when only a few had their experiences recounted, making THE HOUSE IS ON FIRE an enriching and elucidating blend of both historical fact and fiction."—Natalie Jenner, author of The Jane Austen Society and Bloomsbury Girls
"If ever you doubt the interconnectedness of human beings, Rachel Beanland's The House Is On Fire will remind you. In a hundred deftly crafted moments, large and small, the survival of one character hinges on the integrity and courage of another--sometimes unbeknownst to them both. Beautifully constructed and sensitively told, this novel will wring out your heart and make you grateful for it."—June Gervais, author of Jobs For Girls With Artistic Flair 
"I whipped through this book as if the pages themselves were on fire. Heart-pounding and suspenseful, this is unputdownable historical fiction at its finest. In THE HOUSE IS ON FIRE, Rachel Beanland gives us a front-row seat to a terrifying nineteenth-century calamity and the fascinating cast of villains, heroes, and everyone-in-between who must confront it and cope with the aftermath. These characters have been seared into my memory and this story will stick with me." —Elise Hooper, author of Angels of the Pacific 
"As the writer of a nonfiction book about the Richmond theater fire, I recognized the faces and places Beanland brings to life and marveled at her impressive research and attention to historical dealer… At turns heartbreaking and hopeful."—Meredith Henne Baker, author of The Richmond Theater Fire: Early America's First Great Disaster
"Beanland proves again that she is a master storyteller with a tight grasp of the historical record. Here, with both warm and exacting prose, she has breathed life back into a night of shocking tragedy for a young country, returning to the Richmond Theatre Fire the terror and humanity lost by two centuries of forgetting. The depth and realism of her characters is matched only by the galloping pace of this novel, which is likely to sit with unease and beauty in the minds of readers for a long while."—Brian Castleberry, author of Nine Shiny Objects   
"Gripping…. Beanland's stunning account not only of the fire but of its horrifying aftermath, rooted in recorded history, will have you screeching at the page! Opportunities abound for heroes and cowards alike, and Beanland transforms archival records into the quintessential historical fiction novel—cinematic, poignant and resonant—for readers who want to investigate America's history through the eyes of those who are more often than not silenced."—Lauren Francis-Sharma, author of Book of the Little Axe
"Holy smokes! This magnificent novel may start with a fire, but it only gets more urgent from there, as Rachel Beanland raises the stakes for her unforgettable characters on every page. Prepare to abdicate all responsibilities until you've finished this breathtaking book."— Mary Laura Philpott, author of Bomb Shelter: Love, Time, and Other Explosives
"The House Is on Fire tells the story of the Richmond Theater Fire of 1811 from the perspective of four integrous characters—two Black and enslaved, two white and imminently more protected—none of whom experience the world from a place of institutional authority. This affords them insights about power and depravity that those intent on maintaining the status quo are unwilling or unable to see. Though it's a riveting, heart-stopping novel with a fascinating central story, it is the humanity of the core characters that made me fall in love with this book.
In our current moment, when the house is, indeed, on fire, author Rachel Beanland points to unsung American heroes whose stories help liberate us from the limitations of our inherited narratives, all while weaving a gripping tale about what happens when disillusionment is met not with surrender, but with resilience, grit, and determination."--Susan Rebecca White, author of We Are All Good People Here
"Rachel Beanland's THE HOUSE IS ON FIRE is a harrowing mosaic and powerful feat of imagination, a retelling of one of America's earliest tragedies through wildly different perspectives that not only illuminate the fissures of its day but speak powerfully to our own. This is historical fiction at its absolute best: deeply immersive, riveting, and ultimately timeless. I couldn't put this book down."—Chip Cheek, author of Cape May
"Thrilling, heartbreaking, radically empathic, THE HOUSE IS ON FIRE is a gorgeous braid of heroism, cowardice, tragedy, and the aftermath of everything. I loved this book." —Hannah Pittard, author of We Are Too Many 
"A meticulously researched, riveting account of one of America's first tragedies. Rachel Beanland demonstrates how the choices we make impact others, how the help we give or withhold changes lives, and how the narrative of events is influenced by who is telling the story. This timely tale – of courage and cowardice, of love and obsession, and of holding on to hope or letting go – will stay with readers."—Janet Skeslien Charles, author of The Paris Library
"THE HOUSE IS ON FIRE by Rachel Beanland is precisely the sort of story that made me fall in love with historical fiction long ago: Beanland's sophomore novel sheds light on real events and real people, but it's reimagined in a way that allows readers to viscerally experience that fateful night in 1811--to watch, from their own theater seat, as bravery unfolds in real-time. THE HOUSE IS ON FIRE is gripping and imaginative, but Beanland takes great care with the story,  paying homage to the unsung heroes who stepped forward during, and after, the tragedy. A heart-rending and remarkable story."—Sarah Penner, NYT bestselling author of The Lost Apothecary
"I could not turn the pages fast enough! An absolutely propulsive feat of storytelling! The House is On Fire reveals the little known events of an American tragedy of Titanic proportion. In heartstopping, intimate detail Beanland transports us directly into the souls of a truly diverse cast of Virginians whose varied means of survival during the theater fire and in its deftly-told aftermath, not only paint a rich portrait of 1800s America, but also hold up a timeless mirror to the racial disparity revealed by unexpected loss -- and the means through which we must all come together to rebuild. Brava!"—Afia Atakora, author of Conjure Women
"Rachel Beanland's THE HOUSE IS ON FIRE is an utterly captivating and essential read. From page one I was drawn into the lives of four brilliantly developed and unforgettable characters - black, white, freed and enslaved - who's lives intertwine in unimaginable ways in the aftermath of one of early America's deadliest tragedies, The Richmond Theater Fire of 1811. Beautifully written, Beanland captures all that is unjust and wrong alongside all that is good and hopeful. The HOUSE IS ON FIRE is magnificent, I could not put it down."—Nicola Harrison, bestselling author of MONTAUK and THE SHOW GIRL 
Beanland's characters must carry both their own sudden losses and contend with the collective grief of a community and the violent darkness of the era. Split second decisions in the face of danger forever alter the trajectory of so many lives—The House is on Fire is stunning in its breadth and scope of human strength and in its insistence on love amidst destruction. From fragments of half-told history, Beanland creates a world that is real, aching, dark, and true. —Katie Runde, author of The Shore