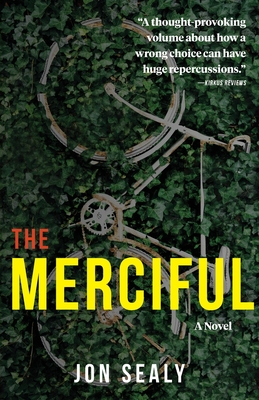 The Merciful
This product is not returnable.
Publication Date:
January 19th, 2021
Shelf Life Books
2 on hand, as of Dec 2 5:19pm
(Fiction)
On Our Shelves Now
Description
Jon Sealy's The Merciful is a scathing morality play that explores a cast of small-town characters surrounding a deadly hit and run in coastal South Carolina.
The low-country town of Overlook is a sleepy tourist and retirement community known for its golf courses and laid-back lifestyle. But when 19-year-old Samantha James is killed in a hit and run one night while riding her bicycle home from work, the town sets out to crucify the alleged culprit, Daniel Hayward. The headlines tell a compelling story, but the truth is much less clear. As in the film Rashomon, everyone has a "story" about what happened: the media, the prosecutor, the defense attorney, Daniel, and Samantha's family.
As the book examines these myriad perspectives, The Merciful's stunning scope ranges from characters striving for a kind of American success that's just out of reach, to questions of data analytics, brain emulations, and the very survival of humanity. Ultimately, however, the novel is a morality play that asks tough questions about the nature of justice-and mercy. What do you do when one moment, one accident, one decision changes the course of life forever?
As the novel circles around the hit and run and the subsequent trial, Jon Sealy offers both a gripping courtroom drama and a probing look at questions of justice and mercy in our era of competing narratives and online outrage.