Staff Pick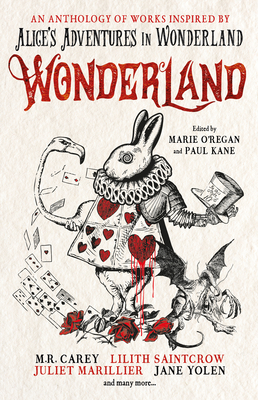 Wonderland: An Anthology
Previous price:

$15.95
Current price:

$14.95
Publication Date:
September 17th, 2019
Description
Shortlisted for best anthology in the Shirley Jackson Awards.
From the greatest names in fantasy and horror comes an anthology of stories inspired by Alice's Adventures in Wonderland.
Join Alice as she is thrown into the whirlwind of Wonderland
Within these pages you'll find myriad approaches to Alice, from horror to historical, taking us from the nightmarish reaches of the imagination to tales that will shock, surprise and tug on the heart-strings. So, it's time now to go down the rabbit hole, or through the looking-glass or... But no, wait. By picking up this book and starting to read it you're already there, can't you see?
Brand-new works from the best in fantastical fiction
M.R. CAREY 
MARK CHADBOURN
GENEVIEVE COGMAN 
JONATHAN GREEN
ALISON LITTLEWOOD 
JAMES LOVEGROVE
L.L. McKINNEY 
GEORGE MANN
JULIET MARILLIER 
LAURA MAURO
CAT RAMBO 
LILITH SAINTCROW
CAVAN SCOTT 
ROBERT SHEARMAN
ANGELA SLATTER 
CATRIONA WARD
JANE YOLEN 
RIO YOUERS
Praise for Wonderland: An Anthology
"exhibit A in the argument as to how inspiration often inspires innovation" - Barnes & Noble SFF Blog
"There's something about Alice's Adventures in Wonderland that is so truly timeless, and this book makes a wondrous example of it" 4.5* - Her Campus
"This collection is not to be missed. Highly recommended for Wonderland aficionados as well as general fans of fantasy, sf, and horror."- Library Journal Starred Review
"a stellar addition to the Alice foray" - Novel Lives
"If you like your literature bizarre, with slight traces of the familiar, Wonderland: An Anthology is delightful" - Fangirl Nation
"These are wonderful and imaginative stories, with a variety of genres to satisfy every fan of Wonderland." - Girl Who Reads 
"run[s] the gamut from luminous to terrifying, with every shade of wonder in between...these 20 inventive gems carve out new space in our collective psyches for Wonderland to inhabit" - The Frumious Consortium 
"Alice has come to life several times in many different incarnations and each one made me look at this character in a different way each time" 5* - Ninetoes Loves Books
"perfect for fans of the original series and anyone who loves magic, the unknown, and the surreal. Pick up a copy. You won't be disappointed" - Looking Glass Reads 
 "Recommend this if you are a fan of Alice in Wonderland and horror!" 4* - Sassy Book Geek 
"A Must-Read Collection for Wonderland Lovers" - Novel Knight 
"If you're any sort of fan of Alice in Wonderland, whether it's the original source material or retellings, this is right up your alley. With a solid mixture of dark fantasy and horror, there's sure to be something to please everyone" 4* - Howling Libraries
"Please, don't hesitate to take a literary plunge into Wonderland, for you'll be rewarded with marvellous stories that will take you by surprise" - Risingshadow 
"a must-read for any fan of Lewis Carrol's classic novel" - But Why Who?
"an all-encapsulating anthology, and I highly recommend it" - Mall3tG1rl
"If you have an itch to return to Wonderland in a more adult manner then please check out Wonderland it does not disappoint at all" 4.5* - Misadventures of a Reader 
"If you're looking for an off-beat anthology of surprising stories, give Wonderland a try." -George Kelley
"Seeing authors' different takes on Alice's Adventures in Wonderland is truly wonderful... It features all the great aspects from the universe of Alice, but re-imagined and told in different ways" - Geekisphere 
"Will amuse fans of Alice and genre fiction alike." Starburst