Staff Pick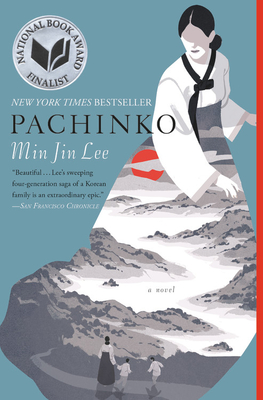 Pachinko (National Book Award Finalist)
Previous price:

$19.99
Current price:

$18.99
Publication Date:
November 14th, 2017
Publisher:
Grand Central Publishing
Shelf Life Books
2 on hand, as of Oct 2 11:17pm
(Fiction)
On Our Shelves Now
A father's gentle nature, a mother's sacrifice, a daughter's trust, and a son's determination are the cornerstones of this grand, multilayered saga. Pachinko follows one family through an ever-changing cultural landscape, from 1910 Korea to 1989 Japan. As the bonds of family are put to the test in the harsh realities of their world, Sunja and those she holds dear manage to carve themselves a place to call home with hard work, self sacrifice, and a little kimchi. Through it all is a message about love, faith, and the deep-rooted bonds of family. Min Jin Lee gives us a phenomenal story about one family's struggle that resonates with us today. It will take hold of you and not let go!
February 2017 Indie Next List
Min Jin Lee has given us a treasure. Pachinko is one of those rare novels that changes your perception of history. The characters are complex and fascinating, and the setting is so beautifully drawn that I felt I was right there with them in Korea, Japan, and the U.S. Lee illuminates the history of Koreans during and after World War II, but, more than that, she brings us a haunting yet beautiful story of family, devotion, lies, politics, and, of course, the game of pachinko.
Top Ten
Description
A New York Times Top Ten Book of the Year and National Book Award finalist, Pachinko is an "extraordinary epic" of four generations of a poor Korean immigrant family as they fight to control their destiny in 20th-century Japan (San Francisco Chronicle).
NEW YORK TIMES NOTABLE BOOK OF 2017 * A USA TODAY TOP TEN OF 2017 * JULY PICK FOR THE PBS NEWSHOUR-NEW YORK TIMES BOOK CLUB NOW READ THIS * FINALIST FOR THE 2018DAYTON LITERARY PEACE PRIZE* WINNER OF THE MEDICI BOOK CLUB PRIZE
Roxane Gay's Favorite Book of 2017, Washington Post
NEW YORK TIMES BESTSELLER * #1 BOSTON GLOBE BESTSELLER * USA TODAY BESTSELLER * WALL STREET JOURNAL BESTSELLER * WASHINGTON POST BESTSELLER
"There could only be a few winners, and a lot of losers. And yet we played on, because we had hope that we might be the lucky ones."
In the early 1900s, teenaged Sunja, the adored daughter of a crippled fisherman, falls for a wealthy stranger at the seashore near her home in Korea. He promises her the world, but when she discovers she is pregnant--and that her lover is married--she refuses to be bought. Instead, she accepts an offer of marriage from a gentle, sickly minister passing through on his way to Japan. But her decision to abandon her home, and to reject her son's powerful father, sets off a dramatic saga that will echo down through the generations.
Richly told and profoundly moving, Pachinko is a story of love, sacrifice, ambition, and loyalty. From bustling street markets to the halls of Japan's finest universities to the pachinko parlors of the criminal underworld, Lee's complex and passionate characters--strong, stubborn women, devoted sisters and sons, fathers shaken by moral crisis--survive and thrive against the indifferent arc of history.
*Includes reading group guide*
Praise for Pachinko (National Book Award Finalist)
One of Buzzfeed's "32 Most Exciting Books Coming In 2017"
Included in The Millions' "Most Anticipated: The Great 2017 Book Preview"
One of Elle's "25 Most Anticipated Books by Women for 2017"
BBC: "Ten Books to Read in 2017"
One of BookRiot's "Most Anticipated Books of 2017"
One of Nylon's "50 Books We Can't Wait To Read In 2017"
One of Entertainment Weekly's Best New Books
One of BookBub's 22 Most Anticipated Book Club Reads of 2017
"Stunning... Despite the compelling sweep of time and history, it is the characters and their tumultuous lives that propel the narrative... A compassionate, clear gaze at the chaotic landscape of life itself. In this haunting epic tale, no one story seems too minor to be briefly illuminated. Lee suggests that behind the facades of wildly different people lie countless private desires, hopes and miseries, if we have the patience and compassion to look and listen."—The New York Times Book Review
"In 1930s Korea, an earnest young woman, abandoned by the lover who has gotten her pregnant, enters into a marriage of convenience that will take her to a new life in Japan. Thus begins Lee's luminous new novel PACHINKO--a powerful meditation on what immigrants sacrifice to achieve a home in the world. PACHINKO confirms Lee's place among our finest novelists."—Junot Díaz, Pulitzer Prize-winning author of The Brief Wondrous Life of Oscar Wao and This Is How You Lose Her
"A deep, broad, addictive history of a Korean family in Japan enduring and prospering through the 20th century."—David Mitchell, Guardian, New York Times bestselling author of The Bone Clocks
"Astounding. The sweep of Dickens and Tolstoy applied to a 20th century Korean family in Japan. Min Jin Lee's PACHINKO tackles all the stuff most good novels do-family, love, cabbage-but it also asks questions that have never been more timely. What does it mean to be part of a nation? And what can one do to escape its tight, painful, familiar bonds?"—Gary Shteyngart, New York Times bestselling author of Little Failure and Super Sad True Love Story
"Both for those who love Korea, as well as for those who know no more than Hyundai, Samsung and kimchi, this extraordinary book will prove a revelation of joy and heartbreak. I could not stop turning the pages, and wished this most poignant of sagas would never end. Min Jin Lee displays a tenderness and wisdom ideally matched to an unforgettable tale that she relates just perfectly."—Simon Winchester, New York Times bestselling author of The Professor and the Madman and Korea: A Walk through the Land of Miracles
"PACHINKO is elegant and soulful, both intimate and sweeping. This story of several generations of one Korean family in Japan is the story of every family whose parents sacrificed for their children, every family whose children were unable to recognize the cost, but it's also the story of a specific cultural struggle in a riveting time and place. Min Jin Lee has written a big, beautiful book filled with characters I rooted for and cared about and remembered after I'd read the final page."—Kate Christensen, Pen/Faulkner-winning author of The Great Man and Blue Plate Special
"An exquisite, haunting epic...'moments of shimmering beauty and some glory, too,' illuminate the narrative...Lee's profound novel...is shaped by impeccable research, meticulous plotting, and empathic perception."—Booklist (starred review)
"PACHINKO by Min Jin Lee is a great book, a passionate story, a novel of magisterial sweep. It's also fiendishly readable-the real-deal. An instant classic, a quick page-turner, and probably the best book of the year."
—Darin Strauss, National Book Critics Circle Award-winning author of Half a Life: A Memoir
"The breadth and depth of challenges come through clearly, without sensationalization. The sporadic victories are oases of sweetness, without being saccharine. Lee makes it impossible not to develop tender feelings towards her characters--all of them, even the most morally compromised. Their multifaceted engagements with identity, family, vocation, racism, and class are guaranteed to provide your most affecting sobfest of the year."—BookRiot, "Most Anticipated Books of 2017"
"An absorbing saga of 20th-century Korean experience... the destinies of Sunja's children and grandchildren unfold, love, luck, and talent combine with cruelty and random misfortune in a deeply compelling story, with the trouble of ethnic Koreans living in Japan never far from view. An old-fashioned epic whose simple, captivating storytelling delivers both wisdom and truth."—Kirkus (Starred Review)
"A sprawling and immersive historical work... Reckoning with one determined, wounded family's place in history, Lee's novel is an exquisite meditation on the generational nature of truly forging a home."—Publishers Weekly
"If proof were needed that one family's story can be the story of the whole world, then PACHINKO offers that proof. Min Jin Lee's novel is gripping from start to finish, crossing cultures and generations with breathtaking power. PACHINKO is a stunning achievement, full of heart, full of grace, full of truth."—Erica Wagner, author of Ariel's Gift and Seizure
"A beautifully crafted story of love, loss, determination, luck, and perseverance...Lee's skillful development of her characters and story lines will draw readers into the work. Those who enjoy historical fiction with strong characterizations will not be disappointed as they ride along on the emotional journeys offered in the author's latest page-turner."—Library Journal (starred review)
"Brilliant, subtle...gripping...What drives this novel is the magisterial force of Lee's characterization...As heartbreaking as it is compelling, PACHINKO is a timely meditation on all that matters to humanity in an age of mass migration and uncertainty."—South China Morning Post Magazine
"Everything I want in a family saga novel, a deep dive immersion into a complete world full of rich and complex lives to follow as they tumble towards fate and fortune...PACHINKO will break your heart in all the right ways."—Vela Magazine
"Gorgeous."—Nylon.com, "50 Books We Can't Wait To Read In 2017"
"Expansive, elegant and utterly absorbing...Combining the detail of a documentary with the empathy of the best fiction, it's a sheer delight."—The Daily Mail
"Deftly brings its large ensemble of characters alive."—The Financial Times
"A social novel in the Dickensian vein...frequently heartbreaking."—USA Today
"Spanning nearly 100 years and moving from Korea at the start of the 20th century to pre- and postwar Osaka and, finally, Tokyo and Yokohama, the novel reads like a long, intimate hymn to the struggles of people in a foreign land...Much of the novel's authority is derived from its weight of research, which brings to life everything from the fishing village on the coast of the East Sea in early 20th-century Korea to the sights and smells of the shabby Korean township of Ikaino in Osaka - the intimate, humanising details of a people striving to carve out a place for themselves in the world. Vivid and immersive, Pachinko is a rich tribute to a people that history seems intent on erasing."—The Guardian (UK)
"Min Jin Lee has produced a beautifully realized saga of an immigrant family in a largely hostile land, trying to establish its own way of belonging."—The Times Literary Supplement
"Lee's sweeping four-generation saga of a Korean family is an extraordinary epic, both sturdily constructed and beautiful."—The San Francisco Chronicle
"Pachinko is a rich, well-crafted book as well as a page turner. Its greatest strength in this regard lies in Lee's ability to shift suddenly between perspectives. We never linger too long with a single character, constantly refreshing our point of view, giving the narrative dimension and depth. Add to that her eye and the prose that captures setting so well, and it would not be surprising to see Pachinko on a great many summer reading lists."—Asian Review of Books
"A sweeping, multigenerational saga about one Korean family making its way in Japan. The immigrant issues resonate; the story captivates."—People
"A culturally rich, psychologically astute family saga."—The Washington Post
"[An] addictive family saga packed with forbidden love, the search for belonging, and triumph against the odds."—Esquire, "Top 10 Best Books of 2017 (So Far)"
"An intimate yet expansive immigrant story."—The Michigan Daily
"The seminal English literary work of the Korean immigrant story in Japan...Lee's sentences and the novel's plotting feel seamless, so much so, that one wonders why we make such a fuss about writing at all. Her style is literary without calling attention to its lyricism."—Ploughshares
"Effortlessly carries the reader through generations, outlining its changing historical context without sacrificing the juicy details...Life is dynamic: in Pachinko, it carries on, rich and wondrous."—The Winnipeg Free Press
"The beautiful, overwhelming tone of the novel - and the one that will stay with you at the end - is one of hope, courage, and survival against all the odds."—The Iklkely Gazette UK
"An exquisite, haunting epic."—The Smithsonian Asian Pacific American Center & Bloom Magazine
"As an examination of immigration over generations, in its depth and empathy, Pachinko is peerless."—The Japan Times
"Lee shines in highlighting the complexities of being an immigrant and striving for a better life when resigned to a second-class status. In particular, she explores the mechanisms of internalized oppression and the fraught position of being a "well-behaved" member of a maligned group. When history has failed, and the game is rigged, what's left? Throughout Pachinko, it's acts of kindness and love. The slow accumulation of those moments create a home to return to again and again, even in the worst of times."—Paste Magazine
"This is honest writing, fiction that looks squarely at what is, both terrible and wonderful and occasionally as bracing as a jar of Sunja's best kimchi."—NPR Book Review
"Lee is a master plotter, but the larger issues of class, religion, outsider history and culture she addresses in Pachinko make this a tour de force you'll think about long after you finish reading."—National Book Review
"Pachinko gives us a moving and detailed portrait about what it's like to sit at the nexus of two cultures, and what it means to forge a home in a place that doesn't always welcome you."—Fusion
"If you want a book that challenges and expands your perspective, turn to Pachinko...in Lee's deft hands, the pages pass as effortlessly as time."—BookPage
"A big novel to lose yourself in or to find yourself anew-a saga of Koreans living in Japan, rejected by the country they call home, unable to return to Korea as wars and strife tear the region apart. The result is like a secret history of both countries burst open in one novel. I hope you love it like I did."—Alexander Chee, author of Queen of the Night and Edinburgh writing for the Book of the Month Club
"Sweeping and powerful"—The Toronto Star
"[An] immersive novel."—BBC.com's "10 Books to Read in 2017
"This family saga about a Korean family living in Japan sticks with you long after you've finished the 496th. I didn't want it to end."—Reading Women
"A sprawling, beautiful novel."—PBS