Discounted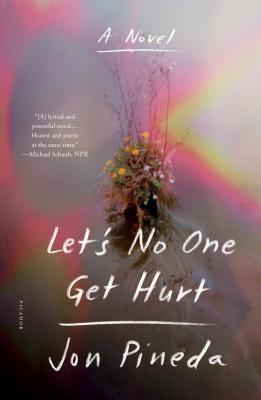 Let's No One Get Hurt: A Novel
Previous price:

$20.00
Current price:

$17.00
Publication Date:
March 12th, 2019
Usually Arrives in 3 to 5 Business Days
Description
"An inventive and powerful coming of age story about the search for community and all the ways our ties to one another come undone. Jon Pineda has a poet's eye for the details of this vivid, haunting landscape, and he brings it blazingly to life." —Jenny Offill, author of Dept. of Speculation
With the cinematic and terrifying beauty of the American South humming behind each line, Jon Pineda's Let's No One Get Hurt is a coming-of-age story set equally between real-world issues of race and socioeconomics, and a magical, Huck Finn-esque universe of community and exploration.
Fifteen-year-old Pearl is squatting in an abandoned boathouse with her father, a disgraced college professor, and two other grown men, deep in the swamps of the American South. All four live on the fringe, scavenging what they can—catfish, lumber, scraps for their ailing dog. Despite the isolation, Pearl feels at home with her makeshift family: the three men care for Pearl and teach her what they know of the world.
Mason Boyd, aka "Main Boy," is from a nearby affluent neighborhood where he and his raucous friends ride around in tricked-out golf carts, shoot their fathers' shotguns, and aspire to make Internet pranking videos. While Pearl is out scavenging in the woods, she meets Main Boy, who eventually reveals that his father has purchased the property on which Pearl and the others are squatting. With all the power in Main Boy's hands, a very unbalanced relationship forms between the two kids, culminating in a devastating scene of violence and humiliation.
Praise for Let's No One Get Hurt: A Novel
"[A] lyrical and powerful novel. It's a well written book that manages to be both honest and poetic at the same time . . . Let's No One Get Hurt is an excellent coming-of-age novel that explores how we deal, or don't deal, with loss and abandonment, and how we can create new versions of ourselves when we're forced to." —Michael Schaub, NPR.org
"Set inside the boggy South, Jon Pineda's Let's No One Get Hurt is a Venus flytrap of a book: come too close and it just might get you . . . [Pearl's] low-down gallows humor and preternatural wisdom lighten the melancholy of adolescent catastrophe, a subject that the author of this compassionate novel understands quite well . . . If Pineda's novel has a straight-ahead message, it's that every place in the South, or America, or anywhere on Earth, is a center of life for someone or some thing: plants bend toward the sun." —Jeff Calder, The Atlanta Journal-Constitution
"Let's No One Get Hurt is a modern coming-of-age story centered on the American South, and there's no doubt that it's destined to be on reading lists for years to come." —Chelsea Adelaine Hassler, PopSugar
"[Let's No One Get Hurt] examin[es] life in the South through a lens of racial tension, poverty and life on the edges of society. With a voice and plot that harkens back to the gritty work of Southern writers like Larry Brown (especially his books Joe and Fay), Pineda's greatest feat — besides his inherent lyricism — is his honest portrayal of the South. He understands its complexities and its obvious ugliness, but — importantly — its humanity, handling itself without stereotypes or maudlin intentions. It makes for a timely book that also manages to exist firmly within the tradition of Southern writing." —Justin Souther, Asheville Citizen-Times
"A poet as well as a novelist, Pineda brings an evocative, compressed style to this work, richly mining its resonances." —Nancy McCabe, Ploughshares
"Let's No One Get Hurt is the evocative story of a free-spirited girl trying to find herself amid memories of her long-gone mother. The story is beautifully and even poetically told in Pearl's first-person voice . . . The fully developed characters are as memorable as the lovely, sometimes melancholy story they people. A classic coming-of-age novel that lingers with the reader long after the last page." —Booklist (starred review)
"With Let's No One Get Hurt, Jon Pineda offers a wild, yearning, strong-willed protagonist and a novel with both tenderness and violence at its core . . . Pineda's writing is thick with the lush warmth of the American South and the harshness of a life scavenged out-of-doors, and his teenaged girl's perspective is spot-on. This novel of exploration, exploitation and the poetry in it all will stun readers of all kinds, especially those who appreciate strong characters and tough choices." —Shelf Awareness
"A fascinating story of a teenage girl squatting with her father and dealing with the aftershocks of familial trauma in the rural South . . . [Let's No One Get Hurt's] terrific sense of place, haunting character dynamics, and assured narrative voice make it memorable." —Kirkus
"An evocative novel about the cruelty of children and the costs of poverty in the contemporary South . . . This stark tale of slow-burning anguish will draw in readers with its lyrical prose and haunting images." —Publishers Weekly
"Jon Pineda writes achingly beautifully, with such crystalline precision and intensity that I would follow him into any story he chooses to tell. Pearl is a character who is so real, so vulnerable and so earnest that she walked off the page and straight into my heart." —Lauren Groff, author of Fates and Furies
"An inventive and powerful coming of age story about the search for community and all the ways our ties to one another come undone. Jon Pineda has a poet's eye for the details of this vivid, haunting landscape, and he brings it blazingly to life." —Jenny Offill, author of Dept. of Speculation
"Let's No One Get Hurt is a novel laced with menace and buoyed by wit. Pineda's Pearl is reminiscent of the young narrators in Jesmyn Ward's Salvage the Bones and Kaye Gibbons's Ellen Foster; like them, Pearl is victim of circumstance, a child of place, and a narrator that is both fierce, sensitive, and endlessly imperiled by forces outside her control. This is a novel shot through with so much beauty and terror that the act of reading it feels like a holy thing." —Wiley Cash, author of The Last Ballad