Staff Pick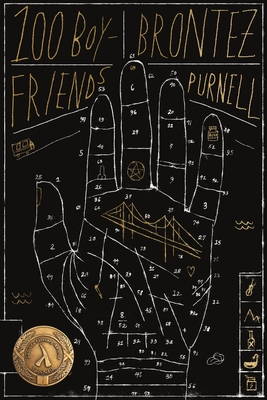 100 Boyfriends
Publication Date:
February 2nd, 2021
Publisher:
MCD x FSG Originals
Shelf Life Books
2 on hand, as of Dec 2 3:17pm
(Fiction)
On Our Shelves Now
Description
Winner of the 2022 Lambda Literary Award in Gay Fiction. A New York Times Book Review Editors' Choice. Longlisted for the 2022 Mark Twain American Voice in Literature Award and the 2021 Brooklyn Public Library Literary Prize. One of Buzzfeed's Best LGBTQ+ Books of 2021, NBC's 10 Most Notable LGBTQ Books of 2021, and Pink News' Best LGBTQ Books of 2021.
"This hurricane of delirious, lonely, lewd tales is a taxonomy and grand unified theory of the boyfriend, in every tense." —Parul Sehgal, The New York Times
"I loved this book—raunchy, irreverent, deliberate, sexy, angry, and tender, in its own way." —Roxane Gay
An irrerverent, sensitive, and inimitable look at gay dysfunction through the eyes of a cult hero
Transgressive, foulmouthed, and brutally funny, Brontez Purnell's 100 Boyfriends is a revelatory spiral into the imperfect lives of queer men desperately fighting the urge to self-sabotage. As they tiptoe through minefields of romantic, substance-fueled misadventure—from dirty warehouses and gentrified bars in Oakland to desolate farm towns in Alabama—Purnell's characters strive for belonging in a world that dismisses them for being Black, broke, and queer. In spite of it—or perhaps because of it—they shine.
Armed with a deadpan wit, Purnell finds humor in even the darkest of nadirs with the peerless zeal, insight, and horniness of a gay punk messiah. Together, the slice-of-life tales that writhe within 100 Boyfriends are an inimitable tour of an unexposed queer underbelly. Holding them together is the vision of an iconoclastic storyteller, as fearless as he is human.
Praise for 100 Boyfriends
"This hurricane of delirious, lonely, lewd tales is a taxonomy and grand unified theory of the boyfriend, in every tense . . . Paragraphs run quick and cool, like stacked ice cubes . . . [a] feeling of eternal recurrence is beautifully by design, it is the very argument of the book . . . All these desires, these imperatives, lodge themselves into that little word 'boyfriend,' into fantasies of men past and present, into those ghosts, who prove so necessary." —Parul Sehgal, The New York Times
"100 Boyfriends is a collection of short stories so wrigglingly alive and counterculturally refreshing that it deserves a new noun — a pod of whales, a murder of crows, a jubilee of Brontez Purnell stories? I'd wager that he sets down the best first lines of any living writer." —Molly Young, Vulture
"I loved this book--raunchy, irreverent, deliberate, sexy, angry, and tender, in its own way. There is a matter of factness tone that I really loved. Also, listen. The men in these stories have a lot of sex. Like, logistically, the chafing alone! Bless their hearts. V v v great book. Will definitely be reading this one again." —Roxane Gay (via Goodreads)
"Brontez Purnell is a tireless creative force . . . At times reminiscent of the work of Eve Babitz, 100 Boyfriends is simultaneously tough and vulnerable, bawdy and knowing, and relayed with a deceptive ease." —The A.V. Club
"Purnell performs one of those rare literary magic tricks: He presents the reader with types only to later reveal the humanity underneath the stereotype. Moreover, his uncompromising portraits broaden the literary scope of queer male desire and love. The men in 100 Boyfriends are glimpses, fractions, and lost — but they remain fully alive." —Alex McElroy, Buzzfeed
"No one can write and tell a story like Brontez Purnell. This is a fact. I laughed, I cried, I winced, I gagged. I texted my friends whole pictures of pages while reading 100 Boyfriends . . . Every sentence in 100 Boyfriends made me giddy; Brontez Purnell writes about everything that goes on in your head before, during, and after sex with a wit and clarity that has become the hallmark of his work." --Jeffrey Masters, The Advocate
"A hilarious, non-stop series of boyfriends past, united by candid takes on love, sex, and more sex . . . Purnell finds the beauty and dignity in every ex." —GQ
"[100 Boyfriends] reads like a series of 4 a.m. text messages received from a very smart and very messy friend — when there's no way you can wait till morning to respond, 'What the fuck? Are you OK? Did you at least have fun?' If Purnell is a living archive of the Bay's queer and punk scenes in last two decades, 100 Boyfriends is an autofiction anthology of drug-fueled warehouse dwellers, queer skate kids, and regretless heartbreakers." —Saam Niami, Vulture
"Purnell provides a taxonomy of each city's legion lonely and their disparate, gentrifying haunts, a history of people and their places . . . They are about race in the way that everything is about race, but they are also performances of technical virtuosity, formal experimentation, and mastery rarely acknowledged in Black writers, whose primary function—that of teacher—is presumed to be at the level of content, not style. They play with and resist autobiography, enlivened by Purnell's marvelous ear for Black vernacular and his finely meted candor." —Jasmine Sanders, Bookforum
"Sexy, hilarious, profane, and profound. I can't think of a work of fiction that comes closer to describing what it's like to be gay and single at this moment in time." —David Vogel, Buzzfeed
"A tour de force of profanity and defiance, with unexpected turns of tenderness and grace. The collection of short stories, sharp portraits of crushes and exes, and coming of age essays is a rip-roaring, unputdownable trip down memory lane that will give you all the feels, and occasionally turn you on. In other words, the perfect beach read."—Erik Maza, Town & Country
"Each tale is a tour de force of storytelling on its own; together, the collection transcends the considerable sum of its parts." —Keely Weiss, Harper's Bazaar
"A foul-mouthed twist on short fiction that draws on zines, critical theory, and pornography . . . The coming-out narrative has grown staid, and queer readers are hungry for a forthright rejection of respectability politics that captures the gritty, authentic sensibility that Purnell brings to life on the page." —Quinn Roberts, Interview
"100 Boyfriends, with its meticulous attention to the sights, smells, textures, glories, and terrors of queer sex, continues the divine smuttiness of Purnell's earlier writings . . . as you drift between characters, points of view, and even literary forms, reading 100 Boyfriends comes about as close as any literary experience can to one of the book's primary subjects: cruising." —Wren Sanders, them.
"An astonishing collection of short stories that explore the varied experiences of Black queer men with a unique mix of electrifying humor and aching humanity. Expect to devour this one in a single sitting — it's just that good." —Sabienna Bowman, PopSugar
"Transgressive, hilarious, and lewd in all the best ways . . . This short story collection is glorious in its messiness, splattering desire, loneliness, and desperation onto a canvas of vulnerability. Dispatched from the queer nadirs, it is, above all else, an irreverent gift." —Greg Mania, Electric Literature
"The language is visceral and kinetic; a warm, inviting chaos that holds plenty of insight into heartache and lust . . . Every movement needs a manifesto, a call-to-action and instruction on how to enact a revolutionary ideology—with its seductively energetic prose and well-rendered odes to raw physicality and joyful spontaneity, 100 Boyfriends is a guide to celebrating one's voice." —Daniel Spielberger, SSENSE
"Intimate yet hilarious . . . Brontez delves into the darkest corners of queer identity and exposes the frenzied and compassionate relationships ingrained in LGBT+ culture." —Bella Morais, The Root
"Few contemporary writers have the guts to write like Purnell . . . Purnell's irreverent voice and meandering structure points to new possibilities for queer writers and readers. It shouldn't be lost on readers that while Purnell's writing is funny, it is also startlingly intimate." —Garrett Biggs, Chicago Review of Books
"Starting with the epigraph, 'Fuck All Y'all,' the book proceeds from that slap to a readerly seduction, sharing with abandon the narrators' most intimate loves, hates, disappointments and excitements. If 100 Boyfriends reads at first glance as a procession of hangovers and unruly lovers, its structure is, in fact, a provocation. There are few narrative possibilities afforded to queer Black men 'out there' and, in this way, the book thwarts those clichés head on, simultaneously throwing the reader into a quickie frisson while letting them dangle in the actual uncertainty and exhaustion of these moments." —Savannah Knoop, Cultured Magazine
"[Purnell] is a master of a variety of prose registers: sassy, lyrical, angry, raunchy, tender. And uproariously funny . . . Purnell has a talent for rolling exuberance, jaded braggadocio, and bawdy hilarity all into one knock-out punch of a sentence . . . In this pinball machine of a book, there's hardly a sentence that doesn't ricochet, bounce, careen, and slam its way right to the mark." —Philip Gambone, The Gay & Lesbian Review
"Small but well-endowed — size queens, this one's for you — 100 Boyfriends is a treasury of thrills and mortifications from the heart of a fucked-up yet lovable Black gay loner whose quests for closeness and closure bring clarity and calm. I saw my reflection in the dirty mirror that is these stories, a person to love and an asylum to call home." —Paris Close, Paperback Paris
"This collection of short stories by the renowned Oakland-based writer, musician, director and dancer will have you laugh, cry and think about life all in a single sitting." —TimeOut
"Bright and piercing as a tattoo . . . a book that celebrates living at the edges of society so beautifully . . . Purnell's stories are fleeting, or they are lingering; they are slutty and heartbreaking. But they're all perfectly poised to stamp into your brain, spreading filth like seeds and delighting in the bewitching rewards." —Kirstyn Smith, The Skinny (UK)
"This stunning collection of vignettes from artist, punk rocker, and Whiting Award winner Purnell forms a delightfully crass, kaleidoscopic worldview. Each story introduces new heartbreaks and reminders that moments of intimacy often end in loneliness . . . Purnell brilliantly immerses the reader in Black, queer desire with humor, self-awareness, and just the right amount of vulgarity." —Publishers Weekly
"American literature has been a bit too polite for the past few decades. Gone are the thrilling and seedy transgressions of a William S. Burroughs or a "J.T. LeRoy." Brontez Purnell's 100 Boyfriends rectifies that in its tales about nymphomaniac men looking for transcendence in a fuck." —The Millions
"Brontez Purnell's 100 Boyfriends is a symphony of sex, trouble and wisdom—as if the composer had sex with each member of the orchestra by way of getting it right. An electric prismatic genre-defying punk literary flight, Purnell is twirling here— I loved every page." —Alexander Chee, author of How to Write an Autobiographical Novel
"Each story in 100 Boyfriends is a minor eclipse: stunning in scope, technically blinding, and entirely miraculous. I laughed and I cried and I laughed until I cried—Brontez Purnell is a marvel." —Bryan Washington, author of Memorial
"In the vast history of the universe there is only one Brontez Purnell, and thank god we get him. From cruising to crushes, cumming to closure, 100 Boyfriends is a mandatory read for the funny-sexy lit freaks among us—a candy box of Euro boys and Daddies, blue pills and satanic exes—all told in an addictively-delicious voice by a writer who is somehow both wildly cool and deprecatingly humble at the same time." —Melissa Broder, author of The Pisces and So Sad Today
"Brontez Purnell has such seemingly casual genius that at times you forget you're reading a book and are transported to some couch/bus/basement where the drugs are really good and your friend is really funny, maybe your weird closeted cousin is on HarlemHookups in the corner, and all of a sudden your friend says some fucking Sappho ass, weird ass, brilliant ass bullshit. I love this slut of a book, it's a slut ass maker. 100 Boyfriends or no new boyfriends at all, Purnell's autofiction/memoir/whatever the hell this marvelously sad and intoxicating book is shook me up good with its honesty and blunt-to-face endings, the jokes and stories I didn't know we were allowed to tell outside of circles of faggots and misfits. But this book is in those circles, makes you tea and steals for you, it invites us in, but would we mind shutting the hell up cause it's a little hungover? The light is coming through the windows so clear." —Danez Smith, author of Homie
"No one writes like Brontez Purnell. It's not just that he is hilariously irreverent, which he is, but that he reserves reverence for that which is deserving. 100 Boyfriends is like a good lover, at turns vulgar and vulnerable, dirty and desperate, and always grinding toward magic." —Justin Torres, author of We the Animals
"Scathingly lucid, filthily pure, this is the most astute, witty, acid-tongued and emotionally generous book about relationships—from one night stands to internet no-no's to ill-conceived crushes to long-term loves, requited and otherwise—I've read. Painfully knowing yet never jaded, 100 Boyfriends dissects, explodes, lambasts, and revels in the ugly beauty of imperfect intimacies with prose that consistently puts its finger on the bleeding pulse of contemporary desire. An unforgettable ode to the heart that beats inside every longing body." —Maryse Meijer, author of The Seventh Mansion
"The stories in 100 Boyfriends took me on a journey: They made me laugh. They made me gasp. They made me feel. Brontez Purnell is a vibrant literary voice you won't soon forget. I love this book." —De'Shawn Charles Winslow, author of In West Mills
"Raging against the grain, 100 Boyfriends is an enticing gem full of wit, surprises, and profundity. The same paragraph will make you laugh, make you horny, then make you sad, then make you horny again, but this time with a deepened sense of purpose. Highly recommended, especially if you're in a reading rut and you need to be slapped out of it." --Luis Correa, Avid Bookshop (Athens, GA)
"100 Boyfriends is very much sex, drugs, rock and roll. Each short segment, anywhere from 3-10 pages on average, is a quick glimpse into the lives of various (and often nameless) gay men just trying to climb through life, often getting laid and high in the process. While that may sound sparse, Purnell truly has a way with prose-- Even singular paragraphs recalling past lovers have the power to make you step back, admiring how sometimes men can be summed up so precisely. Pardon the intense alliteration, but Purnell's prose is truly praise-worthy and deserves to be explored. 100 Boyfriends is jaw-dropping, humorously crude, and sexually, emotionally raw." --Andrew King, University Book Store (WA)
"Nasty, raunch, gorgeous. I get a secondhand thrill from his sexual exploits and am entranced with his running internal dialogue. Purnell writes for the old-school queer punks from the Bay that make it such a vibrant colorful community. Fun and funky. Dark and joyful." --Celeste Orlosky, Santa Cruz Bookshop
"So much gay literary fiction is dark, lonely, shot through with trauma and unhappy endings. In 100 Boyfriends, Brontez Purnell's characters deal with these same things, as so many of us do--but they also highlight the absurdity and comedy of their utterly human lives. It's this balance of the light and shadow of life, of comedy and tragedy, that makes 100 Boyfriends a satisfying read. This utterly original book throws caution and convention to the wind, blending half-page vignettes of individual boyfriends with full coming-of-age short stories. What ties these disparate tales together is Purnell's deep understanding of (occasionally shallow) characters and his ear for hilariously blunt and irreverent dialogue. Imagine a midpoint between David Sedaris and Ocean Vuong or Garth Greenwell, and you'll find this breath of fresh air." --Rayne Stone, Rediscovered Bookshop (Boise, ID)